All-Wheel Drive 2017 Nissan Armada Platinum For Sale Red Noland Pre-Owned
Third row all-wheel drive SUVs are a Colorado fixture because they offer the capability needed for the adventure of Colorado driving.   This very special 2017 Nissan Armada Platinum AWD at Red Noland Pre-Owned Center is ready for your adventures.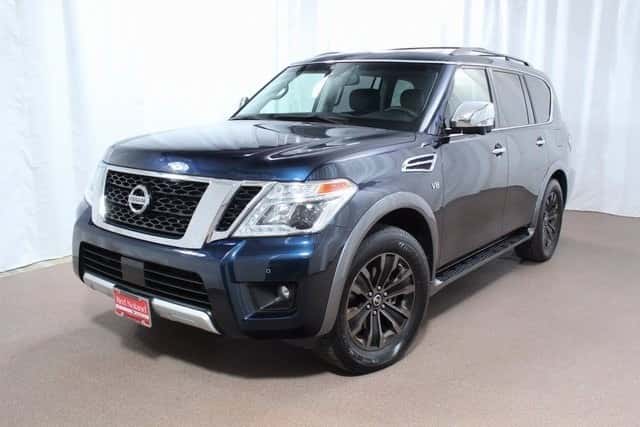 Featuring a reclining third row seat and dual headrest DVDs, your family will certainly feel cossetted in Nissan's largest and most fully equipped SUV. Presented in Hermosa Blue with Charcoal interior highlighted with contrasting seat piping and generous planks of polished wood inlay, this exceptional 2017 Armada sports a squeaky clean CarFax and just 23k miles.
The list of Platinum equipment is so extensive it is almost easier to tell you what it doesn't have!  Just a sample of what it does have includes heated front and rear seats, heated steering wheel, 8″ Navigation screen with voice activation, Tri-zone entertainment with 7″ screens in dual headrests, power moonroof, power liftgate, power folding mirrors with puddle lighting, full 360 degree camera view, eight front and rear parking sensors, Predictive Forward Collision Warning, Forward Emergency Braking, Lane Departure Warning, Lane Departure Prevention, Blind Spot Warning, Blind Spot Intervention, Backup Collision Intervention,  and Moving Object Detection.  That is a lot of features and so many aimed at keeping you safe.
Underpinning this luxury/safety suite is a fully-independent four wheel suspension, all-wheel drive with dynamic traction control and active limited slip braking propelled by the 5.6-litre V8.  That is linked to a 7 speed automatic transmission and the combination offers a towing rating of 8500 pounds.
You're out of excuses, it's all here!  With our great price on this beauty,  all you can do is win.  Visit Red Noland Pre-Owned in Colorado Springs for a test drive.  But be ready to drive this amazing SUV home because you are sure to fall in love!