Helpful Tips For Safe Winter Driving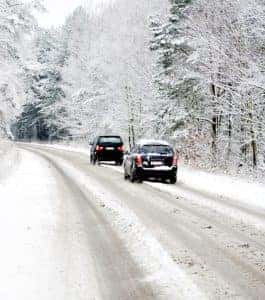 Winter driving presents its own variety of challenges.  Being prepared for the winter driving challenges is essential for safe winter driving.  A well-maintained vehicle can help the driver to take on these challenges.  Make sure your vehicle has been serviced recently and has topped up fluid levels, tires with plenty of tread, and a sufficient amount of gasoline to safely reach your destination.  Put together an emergency safety kit just in case you end up with a vehicle breakdown or are stuck in hazardous conditions.  The kit should include safety equipment such as jumper cables, safety triangles, and a tow rope.  Also, remember items such as a blanket, water, and snack foods.  A good emergency kit should also include a well-stocked first aid kit.
While traveling in winter weather conditions remember to keep a safe distance between your vehicle and the one in front of you.  Pay special attention to bridges and overpasses which might have increased ice layers.  Always make sure your headlights are on.
Let the friendly staff at Red Noland Pre-Owned in Colorado Springs help you find a reliable vehicle for your winter travels.  We have a super variety of capable, safe, and efficient vehicles that have been through our 172+ point vehicle inspection!