Value Your Trade
What's the Trade-in Value for My Car?

As you drive around Colorado Springs and Cimarron Hills, you'll notice plenty of cars. What could they be worth? What's the trade-in value for my car, you may wonder.
Red Noland Pre-Owned Center is here for Fort Carson and Canon City, Colorado, shoppers to guide you through what you need to learn the trade-in value and how to prepare for one.
---
How Do I Find Out the Value for My Car?
The Sell/Trade tab features our Value Your Trade appraisal tool.  We use sophisticated tools, trusted information from Kelley Blue Book and Edmunds, and the market itself to decode what your specific car may be worth.
Make sure you fill in these slots as thoughtfully as you can because this can help us give you the best value possible for your current car. We're happy to discuss the next steps with you after you submit this vital information.
---
What Information Will I Need?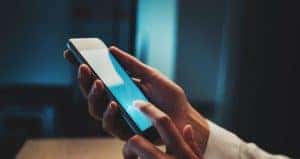 Plug in the starred areas with year, make, and model, and we can assess its value. To help us zoom in on the closest estimate, be sure to include pictures of both the interior and exterior of your car plus the mileage. Note the condition of the car but remember that you can clean it up and get a quick inspection to fix a few minor items.
Other pieces of information, such as the VIN (vehicle identification number), model's name, and trim level provide us great information. If you're not sure of these characteristics, pull out your owner's manual or search the internet. You'll also see a comments section. This can be used to list extra amenities and features that your car may have that others do not.
---
How Should I Prepare My Car on Trade-in Day?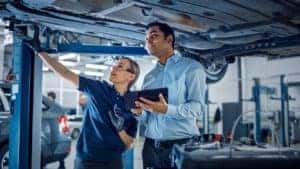 Hopefully, you've been keeping up with regular maintenance and making sure that your car stays clean. When you take care of these tasks, it can benefit your car and keep it running for a longer time. That, in turn, makes it that much more desirable to buyers.
You will need to pass on some important items to us when the day of your trade-in arrives. Search for your title and locate your service records, which can let us know what areas may be next up for a checkup.
Remember to go through your car a few days before you give it up to remove any personal items. You may want to do a quick clean-up, too. Don't forget to erase any personal information and settings on any tech devices to protect your privacy.
---
Why Trading-in Your Car Is a Good Plan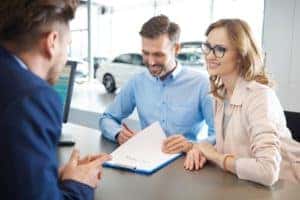 When you trade in your current car to us, you're relieved of all the legwork that comes with it. You won't need to go to the Colorado DMV because we handle that aspect and understand all the intricacies.
Plus, you won't have to find a buyer and go through all the steps to getting your car sold. That can take time better spent riding in a beautiful, new car!
Discover the Trade-in Value of Your Car
Learn how easy it is for Colorado Springs and Cimarron Hills drivers to find out the trade-in value of your car. The process could not be any easier, and we're always on call to walk Fort Carson and Canon City shoppers through it.
---