---
How Do I Prep My Vehicle for Trade in?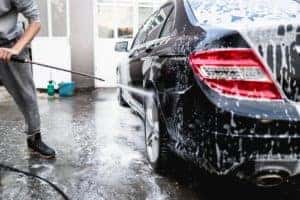 As mentioned above, a well-cared for vehicle will boost your ride's trade-in value. With that being said, you can spruce up your vehicle before the appraisal to potentially raise the buy-back price.
For the exterior, we recommend running your car through the car wash or giving it a good scrub at home. You will also want to fix any cosmetic damages at this time, such as windshield cracks, burned out headlights, dinged doors, or dented bumpers.
For the interior, you will want to take extra care of the upholstery. If you have any stains, cuts, scratches, or burns on the seating, you can take your vehicle to a professional detailer or have your ride repaired at one of our trusted service areas! At this time, you will also want to do the following:
Vacuum the floors and carpets
Take out all trash from the vehicle
Remove all personal information from the infotainment system
Remove any accessories or décor from the cabin
Remove any addresses from the navigation system